LUBRICATION SYSTEMS
A) SINGLE POINT AUTOMATIC LUBRICATORS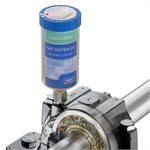 Single point lubricators automatically deliver the correct amount of grease to a single lubrication points over a set time period. For an optimum flexibility according to application conditions, three series are available:
SKF SYSTEM 24 LAGD Series:
LAGD is a gas driven single point lubricator. It is suitable for direct mounting in dangerous environments with limited available space. This disposable lubricator with a pressure of 5 bars and operating temperature of -20 °C to 60 °C is a cost effective solution to customers who are looking into improving their manual lubrication practices. LAGD has 60 and 125 ml reservoir capacity and a discharge rate of up to 12 months.
SKF SYSTEM 24 TLSD Series:
TLSD is an electro-mechanically driven, temperature independent single point lubricator suitable for direct and remote mounting on the bearing housing. This lubricator operates with a continuous pressure of 5 bars and has an operating temperature range of -10 °C to 50 °C. TLSD can be set to operate in up to 12 month settings and its cartridges are available in 125 and 250 ml sizes. (Not for sale/use/offer in France, Germany and USA)
SKF Automatic Lubricant Dispenser TLMR Series:
With a relatively high pressure of 30 bars, this lubricator can operate at long distances providing optimum results with difficult-to-reach and unsafe lubrication locations. With a wide temperature range and robust design, the TLMR lubricator is suitable for operating conditions with various levels of temperature and vibration. TLMR lubricator has a wide operating temperature range (-25 °C to 75 °C) and a variety of operating settings of up to 24 months. Cartridges are available in 120 and 380 ml sizes.
SKF Single point automatic lubricators

Gas driven single point automatic lubricator

Electromechanical driven single point automatic lubricator

Electromechanical single point automatic lubricant dispenser

Automatic lubricator accessories
B) MULTIPOINT AUTOMATIC LUBRICATORS

Multipoint automatic lubricator LSGD 400

Multipoint automatic lubricator LAGD 1000 series
SKF MultiPoint Lubricators are designed to simultaneously feed several points within short distances with the same type of grease. These ready-to-use centralised lubrication systems can be installed without any additional assistance and require no special training to be configured.
System description:
An electric pump is used to supply up to 20 points requiring the same lubricant.
Power sources options include batteries, DC and 110-240 V 50/60 Hz.
LAGD 400: For less-demanding applications. The reservoir contains a conventional grease cartridge that can be simply replaced once empty, or refilled through the grease fitting
LAGD 1000: For higher consumption, number of points of harsher conditions.
C) SINGLE-LINE LUBRICATION SYSTEMS
SKF MonoFlex : designed for oil, semi-fluid grease and hard grease NLGI grades 000 to 2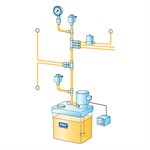 A pump feeds the lubricant via the main line to the lubricant distributors, where it is metered and fed to the lubrication points. Depending on the type of distributors used, this is performed during or after the pump cycle. The individual lubricant requirement for each lubrication point can be adapted using different metering nipples (0,01 to 2,5 cm³). One piston metering valve per lubrication point makes sure the right amount of lubricant is delivered, regardless of any changes in viscosity or back pressure.
SKF MonoFlex systems are designed for pressures ranging from 16 to 315 bar and venting pressures from 2 to 70 bar. The parallel set-up of the single line metering valves enables a simple, and reliable system design and installation.
Advantages:
Scalable system planning thanks to modular design
Suitable for almost all lubricants
Easy system expansion
System does not fail completely if a lubrication point clogs
Support for integrated control unit
D) DUAL-LINE LUBRICATION SYSTEMS
SKF DuoFlex : designed for oil, semi-fluid grease and hard grease NLGI grades 000 to 3
System description: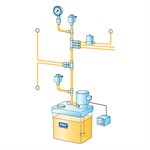 SKF DuoFlex dual-line lubrication systems
The system requires two main lines that are alternately supplied with lubricant. SKF DuoFlex systems are very reliable when using hard greases and when the distance to the pumping unit is long – up to 100 m or more. They also offer great flexibility when it comes to adjusting the metered quantity to the requirements of the specific lubrication point. In addition, the parallel set-up of the dual line metering valves allows for a simple and easy system design.
SKF DuoFlex dual-line lubrication systems can supply more than 1 000 lubrication points from a single pump unit source, resulting in high lubricating reliability with pressures of up to 400 bar.
Applications:
SKF DuoFlex systems are designed for medium-sized or large machines or production lines with a large number of lubrication points, long lines and harsh operating conditions. Applications include heavy industry, metal working plants, pulp and paper, mining, mineral processing and cement factories, deck cranes, power plants and more.
E) MULTI-LINE LUBRICATION SYSTEMS
SKF MultiFlex : designed for oil, semi-fluid grease and hard grease NLGI grades 000 to 3
System description: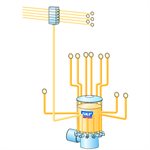 SKF DuoFlex dual-line lubrication systems
Multi-outlet pumps supply the lubricant directly to the lube point without the use of extra metering valves. Each lubrication point thus has its own pumping element. The system design is simple, accurate and reliable. SKF MultiFlex systems include a wide range of multi-outlet pumps from 1 to 32 outlets, and are able to withstand system pressures as high as 4 000 bar.
Applications:
SKF MultiFlex systems are designed for automatic re-lubrication as well as small circulating oil systems on applications in the machine-tool industry, oil and gas, and heavy industry – just to name a few examples.
F) PROGRESSIVE LUBRICATION SYSTEMS
SKF ProFlex : designed for oil, semi-fluid grease and hard grease NLGI grades 000 to 2
System description: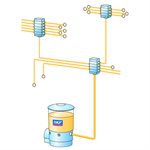 SKF ProFlex progressive lubrication systems
SKF ProFlex progressive lubrication systems are designed for up to 150 lubrication points with grease or oil. In combination with parallel flow limiters, they can serve up to 1.000 lubrication points or even more with oil. SKF ProFlex includes a wide range of progressive distributors based on a block, segmental or modular design with 2 to 20 outlets, flow rates of 0,01 to 6.000 cm³/min. and system pressures as high as 300 bar.
Advantages:
Continuous delivery of lubricant during pump running time
Simple system blockage control
Easy system monitoring via series connection of metering pistons
G) CIRCULATING OIL LUBRICATION SYSTEMS
SKF Circulating Oil System description:
In contrast to total loss lubrication systems, after the oil passes through the point requiring lubrication, it is fed back through the return line into the oil reservoir for reuse. In addition to lubricating, circulating-oil lubrication performs a range of other functions. It stabilizes the lubrication points to the proper temperature, removes and filters out wear particles from friction points, prevents corrosion damage, and removes water condensation.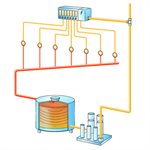 Circulating oil lubrication systems with a SKF CircOil Flowline unit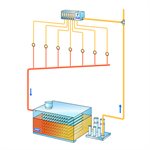 Circulating oil lubrication systems with a SKF CircOil Streamline unit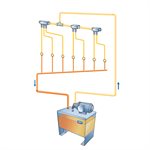 Small-size circulating oil lubrication system with a 143 series pump
Advantages:
Efficient cooling and lubrication
Water and air separation
Integrated condition monitoring
Demand-based distribution of lubricant which can be monitored
Applications:
SKF CircOil systems are designed primarily for circulating oil lubrication to not only lubricate but also to cool highly stressed bearings in nearly every size of machine used in the pulp & paper sector and heavy industry.
H) OIL AND AIR LUBRICATION SYSTEMS
System description: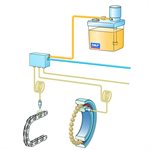 SKF Oil+Air lubrication systems
In oil+air lubrication, a quantity of oil metered volumetrically by a pump or distributor is pulled apart by a continuous air flow in a tube and carried along the tube wall in the direction of compressed-air flow. The quantity of oil is fed into the air flow in pulses at a mixing point (mixing valve). A nearly continuous flow of oil is produced that leaves the outlet nozzle as fine drops and is fed to the rolling bearing without contact. This means that the bearing housing is under a slight overpressure, which keeps dirt away from the sensitive bearings. The carrier air leaves the bearing nearly free of oil. This concept creates no oil mist or oil fog, making it environmentally friendly as well.
Applications:
SKF Oil+Air lubrication systems are designed primarily for high speed bearings in machine tool spindles, chains and special applications in the steel industry.
I) MINIMAL QUANTITY LUBRICATION SYSTEMS
System description: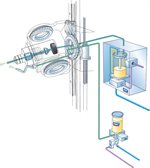 SKF LubriLean MQL
A minimal quantity lubrication system has the task of delivering minute quantities of lubricant to the active site between the tool and workpiece when cutting or non-cutting operations are involved. Lubrication is performed by an aerosol that is formed by oil droplets that are finely dispersed in an air stream. Minimal quantity lubrication (MQL) can be fed to the tool or workpiece in two different ways, internal or external:
SKF LubriLean, internal MQL:
with the internal lubrication method, compressed air or the aerosol is applied through the spindle, the tool holder and the tool directly at the point between tool and workpiece.
SKF LubriLean, external MQL:
with the external lubrication method, the aerosol is supplied to the lubrication point from the outside through nozzles. With the right expertise, machine tools that are not supplied with internal MQL, can be upgraded with SKF LubriLean external method.

Advantages:
Applications of SKF LubriLean for machine tools includes milling, rolling, cutting, drilling, boring, forming among others.
J) LUBRICATION SYSTEMS FOR SPECIAL APPLICATIONS
Lubrication solutions engineered to your reality
At SKF, we apply the power of knowledge engineering to meet your specific lubrication requirements. You can look forward to a cost-effective lubrication solution designed for high reliability and improved energy efficiency. By identifying ways to extend both machine uptime and service intervals, we can help reduce maintenance and operating costs.
SKF can provide integrated lubrication solutions that take advantage of our knowledge areas to optimize your specific industry application. Take a closer look.