MECHATRONICS
A) ACTUATION SYSTEMS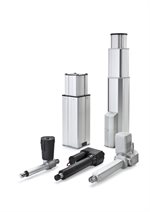 Actuation Systems
Mechatronics is the science of combining together mechanics, electronics and digital technologies into exciting new solutions.
It is a rapidly advancing area that provides fantastic opportunities to solve old problems in a clever and environmentally friend way.
SKF has more than 400 engineers dedicated to this area.
By being at the forefront of this technology for many years, SKF has developed unique application knowledge in hardware and software.
In combining actuators, bearings, sealing, lubrication, sensors and electronics competences, we have been able to develop a number of standard and customized solutions. SKF offers a wide assortment of mechatronic products
Actuating your business with SKF
Our extensive experience and knowledge of actuation systems enable us to satisfy the most demanding requirements utilising linear actuators, telescopic pillars, rotary actuators, engineered actuation systems, control units and accessories.
Our competence dedicated to your success.
No two applications are the same.
With SKF actuation systems, you can rely on products and services that are designed to meet the unique demands of your application and specific conditions.
Actuation systems

Linear actuators

Telescopic pillars

Rotary actuators

Engineered actuation systems

Control units

Opearating switches
B) LINEAR GUIDES AND TABLES
To provide the best fit for all application demands in linear guidance, our range is composed of the following main components:

Linear ball bearings
Profile rail guides
Precision rail guides
Combining these components with different drive systems creates a linear table range from non-driven tables up to complex driven positioning systems:
Non-driven tables
driven tables
Click here to find out more about the SKF Product range

Linear ball bearings

Profile rail guides

Precision rail guides

Linear tables
Manufacturing units
The manufacturing units for SKF Linear guides and tables are located in Germany (Schweinfurt, Meckesheim) and Taiwan (Taipei). In Schweinfurt, the portfolio contains linear ball bearings and tables and a System House for final tailoring of all profile rail guides. The second manufacturing unit in Germany is located in Meckesheim. Their product range includes precision rail guides, miniature profile rail guides and slides. The profile rail guide LLT is produced in Taipei.
C) POSITIONING SYSTEMS
Drop-in design flexibility
Economical for a range of guided and driven applications, SKF positioning systems range from compact, non-driven slides to highly dynamic, multi-axis systems with linear motor drives. Available in standard configurations or redesigned to meet special requirements, SKF positioning systems offer several benefits:
All components perfectly match to each other
Ready to build-in solutions
Save design and purchasing time
Multiple axis solutions easy to be achieved
World wide service
D) BALL AND ROLLER SCREWS
Thanks to decades of experience with manufacturing ball and roller screws and their continuous product and process development activities, SKF provides customers with precision screw solutions that fulfil the most demanding applications in terms of efficiency, precision, durability and value. SKF provides solutions for applications that require driving technology. Ball screws and roller screws convert rotary motion into linear motion, and vice-versa.
A traditional screw essentially consists of a steel shaft with trapezoidal thread and a bronze, metal or plastic nut. With this design, approximately 70% of the power is dissipated through the heat generated by friction at the sliding contact surfaces.
Unlike traditional screws, high efficiency screws from SKF are fitted with rolling elements (balls or rollers) that transmit the power between the nut and the screw shaft. The rolling motion minimizes friction between the nut and the shaft, therefore:
The torque and power of the motor required to drive an application are much lower; depending on the design and technology, ball and roller screw efficiency is greater than 80%
The wear rate is minimized
The life of our products is much longer than the life of traditional sliding screws, and can be determined using rolling fatigue calculation
Due to the high efficiency of this technology, ball and roller screws are back-driving. Thus, some applications require a brake to prevent the carriage from falling down under its own weight. Our comprehensive range of driving solutions includes precision rolled ball screws, ground ball screws and roller screws. Matching accessories for ball and roller screws such as nut flanges and support bearings are available.

Precision rolled ball screws

Ground ball screws

Roller screws

Accessories