POWER TRANSMISSION
Power Transmission is a product line that provides a complete range of high quality belts, chains, couplings, pulleys, sprockets, bushings and hubs.
A) BELTS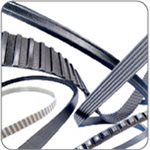 A well-designed belt drive will transmit power for many years with minimal maintenance. As such, investing in high quality belts reduces the total cost of ownership of your machinery in the long-run.
SKF offers a complete assortment of both standard and high performance belts which can be installed in many different applications. SKF Xtra Power Belts, for example, are suitable for all kinds of industrial applications and some agricultural machines. These belts have been designed to increase the service life of your application and deliver up to 40% more power than standard wrapped belts.
Related services: Plant Belt Drive Mapping service
In addition to our offering of high quality belts, an exclusive service we offer is a complete mapping of belt drives within our customers' factories.
Search SKF Belts in our online catalogue now.

Belts

Pulleys

Chains

Sprockets

Bushings and hubs

Couplings
B) PULLEYS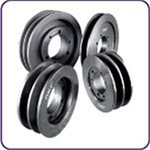 Belt performance is highly dependent on pulley performance. High quality pulleys can significantly increase belt life and reduce the total cost of ownership of your machinery.
At SKF, we offer a range of pulleys that are:
Manufactured according to relevant ISO or RMA standards to help ensure optimum performance.
Statically-balanced to G6.3 balancing quality
Equipped with taper bushes for quick and accurate installation
Phosphate-coated for corrosion resistance
SKF also offers a range of pulleys in all belt profiles, with plain, taper bush or "QD" configuration. Friction type locking assemblies are also available on request.
C) CHAINS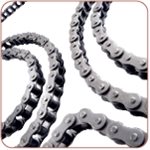 A well-designed chain drive transmits mechanical power from one shaft to another efficiently. SKF Chains are manufactured in state of the art facilities, using tight quality controls. All products conform to ISO standards and other industrial standards such as ANSI, BS, DIN and JIS.
While conforming to the standard ANSI standards for sprocket fitment, the H, SH, SPH and SHH series of chains offer excellent strength and load capacity for demanding applications, and shock loading. This has been achieved by the use of thicker plates, greater plate profile and the use of through hardened pins, providing improved service life.
D) SPROCKETS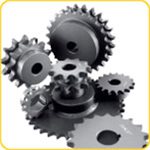 SKF Sprockets come in a wide range of sizes. With a comprehensive selection available, you will never have to worry about finding the perfect sprocket size for your application.
SKF Sprockets are available in various hub configurations such as plate, single hub and double hub. They also come with optional taper bushes for ease of installation and removal. Sizes under 25 teeth are standard with hardened teeth for optimum sprocket life.
E) COUPLINGS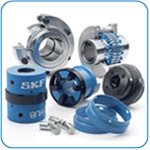 SKF offers a wide range of standard and customised coupling products. SKF Couplings cover a wide range of coupling types, sizes and capacity ratings for many applications and factory environments.
For example, SKF Grid Couplings are an excellent choice for high output (kW) and high torque applications where vibration, shock loads and misalignment occur.
SKF Gear Couplings are heavy duty couplings with incredible design flexibility and are an economical choice for many applications. Very high torque ratings, along with large bore capacities, give this coupling a great advantage over other types of couplings.
For demanding heavy duty applications, SKF has large size couplings. These couplings, can accomodate high torque values, while minimising power loss, and the effects of misalignment.
F) BUSHINGS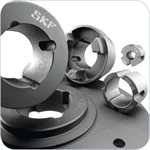 SKF Bushings and hubs are made of high quality steel, with most phosphate coated or blackened for improved corrosion resistance. All SKF Bushings can be easily installed and removed with basic tools, which results in minimal downtime each time they are fitted.
For example, SKF FX Keyless Bushings are designed with a 360 degree interference fit that enable components to be easily positioned and mounted without the necessity of a keyway.
In addition, with a comprehensive range of metric and imperial bore sizes of taper and QD Bushings available, no additional machining is needed. At the same time, customers can conveniently make "off-the-shelf" purchases anytime.